BALTIMORE, MD, March 7, 2023 — We were honored to join leaders from the scientific, academic, and business communities in Washington, D.C. last week to meet with legislative aides. Organized by the National Photonics Initiative (NPI), the annual Congressional Visit Day is a valuable forum for stakeholders in our industry to communicate our legislative priorities.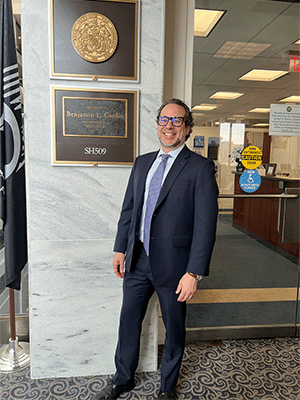 Pixelligent CEO, Craig Bandes, ready to brief Sen. Ben Cardin (D-MD). (Source: Pixelligent)
Pixelligent President and CEO, Craig Bandes, briefed staffers of these representatives: Rep. Andy Harris, Sen. Ben Cardin, Rep. John Sarbanes, Rep. Kweisi Mfume, Sen. Chris Van Hollen, Rep. David Trone, and Rep. Jamie Raskin. They were informed, attentive and gracious.
Supporting US innovation topped the agenda, with participants urging sustained funding from the DoE, NIST and NSF for science and technology research programs. Pixelligent has benefited from this support, most recently by way of a $1.9M grant from the DoE's Advanced Manufacturing Office. Such grants help innovators bring promising technologies closer to commercialization and frequently serve as a bridge to securing funds from capital markets. Shortly after receiving the DoE grant, Pixelligent raised $38M in IP-backed financing.
In addition, there was a discussion on reintroducing the STEM Talent Act bill. The bill would give foreign-born graduates with STEM-related PhDs and a job offer from a US company a smoother path to residency. It was introduced last year but failed to pass.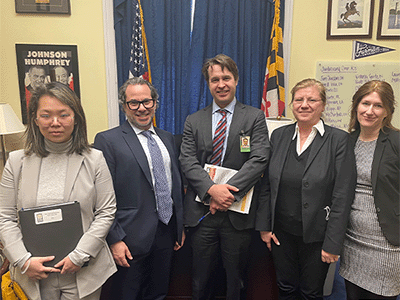 Pixelligent CEO, Craig Bandes (2nd from left), and Alex Chanock, Legislative Counsel, pose for a photo in Rep David Trone's office. (Source: Pixelligent)
It's always a pleasure to share our story with representatives in DC. They are stalwart supporters of innovation and entrepreneurship, and are keenly in tune with our industry's contribution to maintaining our nation's technology leadership in the global marketplace.
Big thanks to our gracious hosts and to NPI for organizing a thoroughly productive day.
To learn more about Pixelligent Technologies, please visit www.pixelligent.com